Ahreum is scary?
Hi. Asslaamualaikum~ Sudah lama Elly tak update blog. Sebab google error lah tak tahu kenapa. Hari ni Elly nak cerita sikit pasal EX member T-ARA, Lee Ahreum. She is my bias. But something wrong with her after she leave T-ara on July, 2013. Lama tak dengar cerita dia tutptup tadi dekat twitter dia treding. Elly pon click lah dekat nama dia.
Ya Allah seriously dia ni memang menakutkan! Dia pergi buat video hantu. Video dia tu lebih seram berbanding cerita hantu k. Dengan gaya dia cucuk mata lagi macam nak tercabut jantung kita ni! Ni Elly ada baca news dia dekat allkpop. Elly rasa dia ada "kurang sikit" dekat mental dia tu.
ni screenshot video dia. Elly tak tahu apa kena dengan dia sejak dia keluar T-ARA. Mesti ada sebab dia keluar T-ARA. Mustahil seba nak buat album solo je out! Lepas tengok semua video dia, Elly ras atakut semacam jeee. ada satu video dia intro "
KAWAN BARU
" dia tapi
MANA ADA ORANG SEBELAH DIA
.
http://www.youtube.com/watch?v=SOlbjmxTl9I
Click the link to watch Ahreum intro her new friend. Memang menyeramkan betul >.<
"Netizens seized on this and promptly claimed she was being bullied, it was Jiyeon who was the ringleader, T-ARA were rude in Japan and that they should all just go to jail.

"
Suddenly
I HATE JIYEON!! SHE IS A REAL RINGLEADER?????
Apa yang Elly tahu Hwayoung keluar T_ARA sebab kena buli dengan Jiyeon jugak. Tapi masa tu ELly buat tak endah sampai jumpa news baru pasal Ahreum ni. Biadab punya perempuan. haha :D
Video dia yang cucuk-cucuk mata ni dia dah delete dari account insta dia. Dia cakap slow sangat macam bisik dekat someone tapi mana ada orang sebelah dia. Mesti ada yang tak kena dengan budak ni -.-
On the 9th, she wrote, "My birthday! A day has passed. Everyone in Korea, wait for me. I will! Make sure to kill the pain in your hearts. You're all having a hard time because of that, right? Day by day. Wait a bit for me. I, Lee Ahreum, is one child. I've lived all this while with the best posititivity. The wish I made this time is the happiness of the world. It's not long from now so remain smiling. Promise me. I'll promise you. Promise me. Smile for now."

Ahreum's actual birthday is April 19th.
Ni translation apa yang dia cakap dalam video dia tulah. Dia upload video tu 10/11/13 the 18 hours later dia post gamba dekat insta dia cakap ;
"I was just acting. I'm with my mom and friend outside right now (V sign + wink). Ghost? Possessed? You mean Beauty? (play on words) Fools."
Lol dia ingat lawak ke buat video macam tu cakap berlakon? Tak agak-agak. Tapi kalau Korang tengok video dia yang dia intro kawan baru dia, korang akan perasan satu benda yang sedikit menakutkan.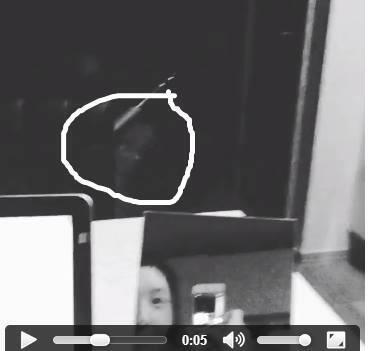 Click link yang Elly dah share tadi then perhatikan video tu bila sampai part ni. Arghhhhhhhhh memang menyeramkan!!!!!!!!!!!!!!!!!!!
1:49 AM